To place orders call: 310.663.9390
THE TAO OF BIRTHING® MANUAL
This 100 page, step-by-step guide will take you through the process and preparation for empowered birthing. An abridged version of "The Tao of Birthing® – a Holistic Guide Through Preparation and Childbirth," this manual was designed for my classes and birth clients. Illustrations included.
Contains:
Anatomy and physiology
Stages and phases of labor
Practical measures
Alternative tools (Homeopathics, herbs, teas, essential oils)
"To do" pages for Partners
Comfort measures
Five HypnoScripts
NLP vocabulary list
How to diplomatically communicate with Hospital Staff
Check List of Items to bring with you
Effective birth plans
Birth Stories
Reading List
Referral list for those in L.A.
Price: $40.00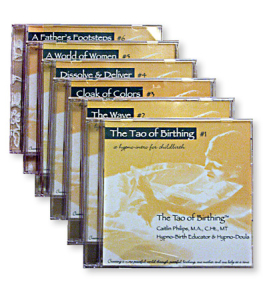 Original Hypno-CDs/MP3's
For Preparation & Birthing
Written and Recorded by Caitlin Philips
Background Music by Leigh Spusta
Purchase the 5-CD set or any one individually.
Titles
THE TAO OF BIRTHING®: Hypno-Intro for Childbirth Preparation ~ Recommended for a deeper understanding of 'The Tao' and its application for birthing.
THE WAVE: Hypnosis for Childbirth ~ Meditative, kinesthetic and visual.
CLOAK OF COLORS: Hypnosis for Childbirth ~ Utilizes the chakra system and the magic of its seven colors.
DISSOLVE & DELIVER: Hypno-Release for Childbirth ~ Takes the listener through a visual exercise. Recommended for anyone and everyone who'll be present in your birth room. Designed for group listening or private.
A WORLD OF WOMEN: A Guided Journey, (with an Irish lullaby) ~ Gain inspiration and support from birthing mothers around the world..
"Caitlin's Hypnobirth CDs are the best I've heard. The content is artful, imaginative and evocative, and her soothing voice can put anyone into a deep trance. My clients thank you." – Maggie Ehrig, Birth Doula
"…how I appreciated your CD's and how much I listened to them. I went into labor last Wednesday with the Cloak of Colors on stereo while on my yoga mat in child's pose. Fourteen hours of labor. Great experience. Beautiful baby. You'll be hearing from all of my pregnant friends. Thanks so much!" – Nicole
Price: $15 per CD or MP3/ $30 for two/ $40 for three/ $45 for 4/ $50 for five

Orange wrist bands with wrap-around message designed to unify your "birth team." For Prenatal & Birthing Mothers and Partners, Assistants, Sisters, Grandmothers, Aunties, Friends, Birth Photographers and Nursing Staff.
Message:
SURRENDER/RELEASE/EUPHORIC/COME/EASY/YES/SURRENDER
With more words & supportive phrases hidden within.
No matter where you look, each word will remind you to remember!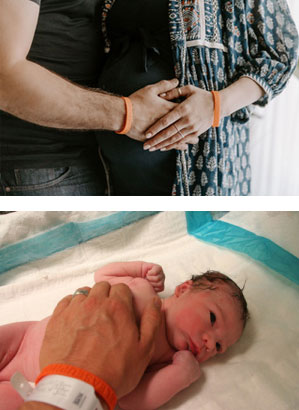 Description:
Orange reflects the color of the 2nd Chakra (sacral Chakra), and represents expansion, sensuality, sexuality, enthusiasm, passion, creativity, celebration and birth. Its name in Sandskrit is Swadhisthana.
Related element: Water
Related symbol: The Moon
Related shape: Circle
Related polarity: Waves ebbing & flowing
Related musical note: D
Related essential oil: Melissa
Governs the Spleen Channel
Price: $3.00 each or pack of five – $12.00 (1 wristband FREE)
Give extras to your prenatal friends
*All purchases are available to ship now.
Tax and Shipping costs apply.