Caitlin Philips, M.A., LMT, C.Ht.
HypnoBirth Educator, HypnoBirth Doula,
CranioSacral Therapist, Clinical Hypnotherapist
I'm passionate about educating on the expansive nature of birth with non-biased, leading edge, holistic and evidence-based information. My Doula services are specific to Homes and Birth Centers, however, my classes are effective for any environment.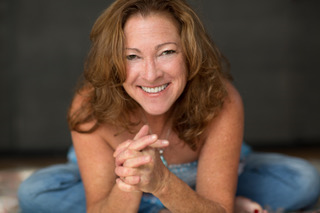 I've owned a Massage Therapy practice on the West side of L.A. since 1990. In 1994, wanting to broaden my skill-set, I enrolled in
Prenatal
Massage training. It was there that I met a fledgling Doula. She had been in the very first Birth Doula Certification program in Los Angeles. I was in the second!
My Prenatal Massage clientele grew quickly through word-of-mouth. Though none of my clients had heard the term, "Doula," (a pioneering career-path at that time) their interest was piqued at the mention of, "massage during labor." And so my work in birth began.
The book, Spiritual Midwifery by Ina May Gaskin became my "bible." In 1996, I had the chance to study with Gaskin and The Farm Midwives. I flew to Summertown, Tennessee, returning ten years later for training as a Midwife Assistant.
By 2004, I was looking for ways to prevent unnecessary Cesareans. I acquired a 720-hour Credential in Clinical Hypnotherapy as well as Certification in HypnoBirthing-The Mongan Method. Hypnosis proved to be one of the best preventative solutions.
Twenty-six years have passed since assisting my first birth as a Certified Doula, and my work continues to be wondrous! Without the constraints of a hospital environment, I'm able to support laboring mothers, their partners and babies in the most natural, normal, healthful and joyous of ways. For example, with all participants sitting close on a birthing-mother's bed, or crouched in a small bathroom, or encircling a tub of warm water …candles lit or the sun shining down …a peaceful yard with beloved pets near by. I love being in a timeless space with laboring mothers, and I treasure the moment in which I affirm, "You are doing it," when she tells me she can't. I'm in awe of Birth's transformative power, and I'm moved by the notion that I'm a part of something so intimate, and at the same time, universal.
What called me to this work? It was the desire to engage in the highest level of service and the most sacred of experiences. There's nothing more mystical, mysterious and miraculous than labor and birth. There is nothing more honest. And for me, there's nothing more satisfying than observing or enhancing immediate Mother-Baby bonding, and welcoming each tiny human into our world.
Education
Massage Therapy Certification: 1988 – 1989
The New Mexico Academy of Advanced Healing Arts' – 1,250 hour program
Aromatherapy: 1989, Robert Tisserand's approach, Santa Fe, NM
CranioSacral Therapy: 1991 – 2016, Gary Strauss, Benjamin Shield, Hugh Milne and, (Certification specific to Infants and Perinatal mothers …) Carol Gray.

Prenatal & Postpartum Massage Certification: 1994, The Institute of Psycho-Structural Balancing, Culver City, CA
Birth Doula Certification: 1994, Doula Birth Partners of Los Angeles
The Farm: 1996, Ina May Gaskin and The Farm Midwives, Summertown, TN
Doulas of Southern California/DASC: 1996, Partnered in the creation of
Spiritual Psychology, Master's Degree: 2002, The University of Santa Monica
Clinical Hypnotherapy Degree: 2004 – 2005
720-Hours, The Hypnosis Motivation Institute, Tarzana, CA
HypnoBirthing Certification–The Mongan Method: 2004, Thousand Oaks, CA
Authored: "The Tao of Birthing® – A Holistic Guide for Preparation & Childbirth" 2005
Midwifery Assistance Training: 2006, The Farm, Summertown, TN
Conferences: 2005, 2007 & 2017, Association for Prenatal and Perinatal Psychology and Health
Birth Doula Re-Training: 2017, Birth Arts International, Los Angeles, CA
Continuing Birth Education, Classes and Workshops: 2000 – 2018
Publications, Interviews and Television Appearances: 1995 – 2001
Topics: Birth Doulas
Memberships
The Association for Pre and Perinatal Psychology and Heath
Associated Bodywork and Massage Professionals
"The Tao of Birthing is unique, and embodies a new wave of understanding, representing, what I think, must become the paradigm of future generations. This is a brilliant work that facilitates a more independent, courageous and fulfilling mode of birth."
– David B. Chamberlain, Ph.D., Psychologist, Author, Former Board Member of The Association For Pre & Perinatal Psychology And Health
"The Tao of Birthing is beautiful and profound, offering the world a brave attempt at opening up the many mysteries that surround the birth process. It invites pregnant mothers into the spiritual, as well as the practical world of birthing, with elements that belong to the realm of the soul."
– Naolí Vinaver, Midwife, Activist, Author of 'A Baby is Born Naturally'
"The Tao of Birthing is a wonderful book for prospective parents. Its information is excellent, with a holistic approach of great use as it emphasizes the more alternative approaches to childbirth."
– The Late Marsden Wagner, MD, MS, Author of 'Born in the USA – How a Broken Maternity System Must be Fixed to Put Women and Children First'